24-hour Alarm Response
801-567-8865
When to CALL 8865 - Facility Security and Alarm Response
The Department of Facility Security is to ensure and maintain the safest environment possible for our students, staff, visitors, and physical assets.  We achieve this in the following ways:
Maintain and constantly monitor school safety security equipment, to include card access, cameras, fire systems, AEDs and building security systems.
Regularly communicate with local police and fire to ensure planning and response to all emergencies.
Provide 24-hour response and support to schools and patrons.  Assist with problems and emergencies; ensure a safe learning environment for all.
Continually assess security through our JSSA.  (Jordan Safety Security Assessment inspection).  Help identify additional needs to ensure a safe learning environment.
All Jordan District buildings are under 24 hour surveillance
Security Systems
All doors and windows are monitored.  Motion detectors monitor all halls.  Any drop or alarm from the system is dispatched from a local alarm company to our alarm responders who will arrive and address any concerns.  Any early-open or late-to-close alerts will be followed up by Alarm Response.  Local law enforcement assists as needed.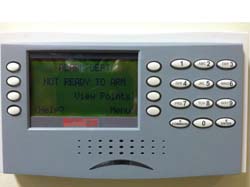 Access codes are only assigned to key personnel as outlined in Policy DA153.  Principals, assistant principals, custodians, head sweepers, head secretaries, and lunch managers as authorized to have a security code assigned to them.  The alarm system is tied to our Card Access System and all badges are disabled until the alarm system is disarmed.
Facility Security Department Techs install and repair:
AED, Automated External Defibrillator, inspections and maintenance
JSSA, Jordan Safety, Security Assessment
Fire Systems, inspection and repair
Security Systems, inspection and repair
Access Control Hardware District-wide
CCTV Systems installation, inspection, and repair
Locksmiths
Locksmiths
Dave Green
Lewis Cleveland
---
AEDs




An AED is used to treat victims who experience "Sudden Cardiac Arrest"

.  It is only to be applied to unconscious victims who are without pulse, signs of circulation, and normal breathing.  The AED will analyze the heart rhythm and advise the operator if a shockable rhythm is detected.  If a shockable rhythm is detected, the AED will charge to the appropriate energy level and advise the operator to deliver a shock.  Anyone can, at their discretion, provide voluntary assistance to victims of medical emergencies.  The extent to which these individuals respond shall be appropriate to their training and experience.  These responders are encouraged to contribute to emergency response only to the extent they are comfortable.  The emergency medical response of these individuals may include CPR, AED, or medical first-aid.